Praise for Karen and Dressing Rooms
Karen came to see me after recently moving into my new home. I needed curtains for every room, my hallway and landing. When she came she brought some samples with her, I have never seen so many fabrics to choose from the range was amazing.
We went through every room with Karen listening to what I thought I needed and with her expertise and suggestions managed to choose beautiful fabrics for each room. This was done over a few visits as there were too many rooms to choose all the fabrics in one go. I had curtains, pelmets and blinds made. All were made of the highest standard. Karen's track fitter came along to fit all the tracks and poles (which again she had a lovely range to choose from), and my blinds.
I also had a valance and throw for my bed made and she covered a lamp shade for me to match. Nothing was too much trouble. The windows were dressed beautifully and have many admirers!! She also has a vast range of accessories to dress the curtains which brings in new ideas that maybe you would not have thought about otherwise. The whole experience from start to finish was excellent, exciting and very easy to what could have otherwise been a very daunting task.
– Mrs. Charles Warnham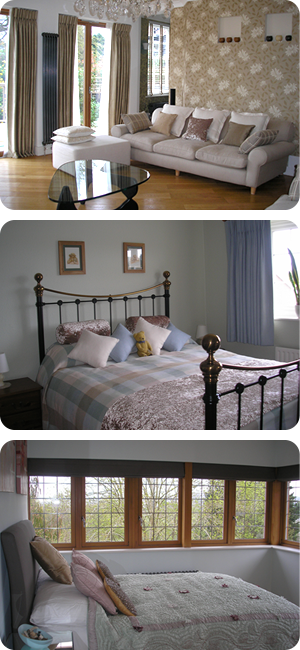 My recent experience with Dressing Rooms has been very positive, I felt that Karen listened to what I wanted & gave excellent advice on how to achieve it, the quality and construction of my curtains are superb and I would happily recommend the company to my friends.
– Mr Cherriman, Henfield
I have been using the services of Karen at Dressing Rooms for approximately 2 years now and have been more than pleased with the standard of work, Karen is most helpful and can fit in with your schedule and generally will go out of her way to keep to deadlines if required.
– Mrs. Hemmingway, Horsham
We would like to thank Karen Rainford of Dressing Rooms for her excellent work in dressing eleven windows and a bed-head over the past six months. She provided a clear quotation, answered numerous queries with great patience, was flexible and innovative in her approach to our ideas, paid good attention to detail, dealt with any hiccups promptly and kept to her original quote. We are very pleased with the actual workmanship and hanging of the curtains and blinds as well as the fitting of the poles tracks and bed-head.
– Mrs Goff, Cranleigh
Karen provides a highly professional yet friendly service. She is ready with advice when asked but does not impose her views so that we ended up with the effect we wanted having had her guidance as a sounding board, not a dictate. Even on a straightforward and relatively simple job, there are numerous small decisions to be made which are best considered by an expert…….we were so pleased with the end result that we have just gone back for more.
– Mrs. Savage, Storrington
I've used Dressing Rooms three times in the last 12 months for relatively small requirements around the house – two made to measure blinds and one "tweaking" of bedroom curtains and on each occasion Karen has interpreted my requirements exactly. Karen is very prompt, reliable and professional and the work she has produced for me is superb. I can't wait to work with her again on a larger project.
– Mrs Capella, Washington